Better than Band Camp: Steamboat's Speed Camp for Ski Racers
My tweenage son, who weighs in at a willowy 70 pounds, recently was clocked at 59 miles per hour. He was not in a car. Or on a bike, for that matter. He was balled up in a tuck, sliding near frictionless over icy hardpack on a pair of skis. If it wasn't minus a billion degrees and he'd stripped to his speed suit, he surely would have been north of 60.
We were in Steamboat Springs, Colorado, for a speed training camp. In ski racing, "speed" events refer to Downhill and Super G races. Not that Giant Slalom is a ponderous sport, but everything is relative. The itinerary for the weekend was enough to give the hardiest of moms a serious case of the heebidy-jeebidies. There was the speed trap, a Super G race, high-speed jumps, and Nordic jumping. I didn't have butterflies: I had pterodactyls circling my gut. Real bad for the old GI system.
The speed trap portion of the camp took place on the 37 degree out-run of the HS127 (90-meter) Nordic jump at Steamboat's Howelsen Hill. The kids gave a few skates at the top, crouched into a tuck and straight-lined the pitch. Their coach stood at the bottom with a radar gun and a microphone, announcing times. The fastest kids (all 13 and unders, not an armpit hair between them) reached eyeball-drying times of 68 mph. Each subsequent run, they would attempt to make their tuck a little more aerodynamic, their time a little faster.
There were a few crashes. One kid tumbled at the bottom of the outrun, ejecting both skis in a high velocity bombplosion. The parent spectators gasped. She got up and dusted off, unfazed. The parents started breathing again as the MC-coach announced, "Sixty miles per hour… straight into a log roll. Nice!"
Howelsen Hill, which opened in 1915, making it the nation's oldest continuously operated ski area, sits at the bottom of 5th street in the town of Steamboat Springs.  It is literally a city park. The vibe at Howelsen is not unlike the Olympic gestalt of Lake Placid. There's a 440-foot ski slope with a Poma and a chairlift, an ice-skating sheet, 13 miles of cross-country trails, and a cluster of Nordic Jumps.  The place is a breeding ground for Olympians: 79 Howelsen-trained athletes have been to the Winter Games.
At the base of it all is a collection of 1950s wooden lodges and old rope-tow houses with corrugated roofs steep enough to make Dr. Seuss raise an eyebrow. Over the course of the weekend, we saw snowboarders gate training, a high school team running slalom, and Nordic skiers poling and skating by in a college race.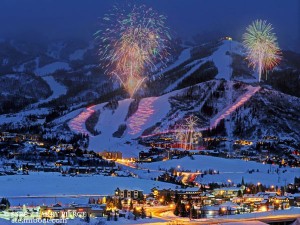 My son Quinn and his teammates from Team Summit spent the morning working on gliding skills on Howelsen's Mile Run trail, which wraps around the mountain from back to front. In the afternoon, they skied an abbreviated Super G course culminating in what appeared to be (from my maternal perspective) an enormous kicker. I distinctly heard the coach say something about "catching 80 feet of air." Fortunately, the athletes were in good hands. In addition to their own coaches, they were getting advice from Olympians Debbie Armstrong (who won gold in GS at Sarajevo in 1984), Chris Puckett, and Caroline Lalive.
That night, from the deck of my friend's house in Steamboat, Quinn and I watched  Steamboat's 50th anniversary fireworks showering over the ski area. Tucking as fast as possible, launching huge air, and fireworks. So far, the weekend was a heaven for a 12 year old.
The next day, the team spent the morning at Steamboat running a simulation of a Super G race. They logged four runs and stripped down to their speeds suits despite the -15 degree temps. After the training, Quinn's grin can only be described as cheek splitting. "I just love Super G," he told me.
The final exercise in getting comfortable with speed—and being airborne at speed—was to send the kids off the Nordic jumps. Now, my kids play a considerable amount of Wii—not ordinarily a source of pride—but we have the Shaun White game that includes Nordic Jumping, so my son was probably more prepared than most.
If you've ever watched the Winter Games, you know that perhaps there's a titch more to it. First you have to straight-line an in-run with two narrow tracks for your skis. There's no chickening out and throwing in a little snowplow. You have to commit. Then you hit the jump, fly like a bird (but hopefully not Eddie the Eagle), then land on a super steep out-run slope at warp speed. Simple.
Quinn quickly worked his way from the kindergarten jump to a bigger jump to the HS45 (30-meter) jump. The real deal. When my little cupcake was at the top, the coach suggested I look the other way. I took a video with my phone that, because my hands were shaking so bad, was without a doubt The Worst Video Recorded. Ever.
Here's what the video looks like: Some snow-filled trees in the distance. A small raisin shape descends the in-run then drops out of the frame. There is no footage whatsoever of the actual  jump. The raisin descends the out-run and grows into the shape of a skier. It's Quinn. He skis up to me,  smiles a black plastic smile (his mouth guard), and says: "I gotta go to the bathroom."
Not me. I just peed in my pants.