Keeping kids' hands warm is the Holy Grail of temperature regulation when skiing and snowboarding. When your little chickadees have toasty fingers, they'll stay out longer and ski more—which means you get to ski more. It's win-win. Try these tips, and if all else fails, wrap small hands around a steaming mug of hot chocolate, complete with whipped cream and sprinkles. Beer for you and me. That works, too.
1. Forget the kid gloves; go with mittens.
Fingers are like penguins. They like to huddle together to stay warm. Mittens are also easier for kids to pull on and off, and they are roomy enough for those chemical hand-warmer packets (see #7).
2. Splurge on high quality mittens.
There are a lot of crummy mitts for kids on the market. They won't stand up to the elements. Look for mittens with a water-proof breathable lining, like Gore-Tex, a quality insulation (say, Primaloft), and an outer fabric that is supple enough that kids can grasp their pole grips easily. Kids need waterproofness not just for skiing and riding, but for packing snowballs and digging holes in the snow, which they will undoubtedly be doing while their ski instructor is dissecting the finer points of a carved turn.
3. Buy mittens that fit a little big.
Like sleeping bags and storm windows, mittens have a pocket of air that serves as insulation. My son's fingers were always freezing until I swapped mittens with him (we have nearly the same size hand). Then my fingers were cold. I realized the mitten, especially at the thumb, wasn't quite long enough to create a reasonable sized air pocket for insulation.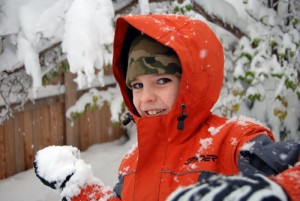 So, buy big mittens or go home cold. The other benefit of a slightly larger mitten is that you can easily fit in a pair (or two) of those little hand-warmer packets (see #7).
4. Remember, you're full of hot, wet air.
For the love of Sam Hill, don't blow in your kids' mittens to warm them up. Your breath has moisture in it and will make gloves or mittens wet, which will only make kids' hands colder in the long run.
5. Ditch the poles.
When kids are very small, encourage them to ski without poles. First of all, they don't need them when they are learning to ski. It's just another thing to trip over. Secondly, gripping onto a pole handle tends to make hands colder. It minimizes that insulating pocket of air (see #3) between the hand and the palm of the glove or mitten that would otherwise keep your digits cozy. Kids without poles can ball up their hands into fists to keep them warm even while skiing.
6. Choose mittens with a gauntlet King Arthur would be proud of.
Look for mittens with a cuff material that covers the wrist and cinches down tight around the jacket sleeve. This way, when Junior has a yard sale in powder, snow doesn't pack in around the wrists. Kids cry when snow gets packed in around their wrists. Look for mittens with clever little cinchable straps that loop around the forearm so that when a child pulls off a mitten on the chairlift, the mitten won't plummet to the trail below. Kids cry when their mittens plummet to the trail below.
7. Stock up on disposable hand warmers.
Look for those little chemical packets from Little Hotties, Grabber, and Toasti Toes. If it's a cold day, open the packaging 15 minutes or so before you're heading out. The chemical in the warmers takes some time to activate in the air. Buy by the box at Walmart, Target, and Costco. You'll pay a premium at ski resorts.
8. Dry out mittens at night.
Start a cold day with wet mittens, and you are doomed. After skiing and riding, put mittens in the clothes dryer, leave them on a radiant-heat floor, or hang them in a hot boiler room. Several boot dryers on the market double as glove and mitten dryers (DryGuy and Hotronic Snapdry, to name a few).
9. Keep hands moving.
On the chairlift, have kids play a sort of patty-cake game by hitting their thighs, then the chairlift seat, then clapping. Make up some a rhythm (clap, thighs, chair, thighs, clap…) and see how fast they can do it. On the slope, have kids swing their arms in big circles to send blood to the fingers. Shoulder shrugs work, too. With hands at sides, kids shrug their arms downward vigorously a dozen times.
10. Pack extra mitts.
Kids' hands sweat. On days when the weather goes from sunny and bluebird to windy and grey, mittens can get wet with perspiration. Then, as temps drop, hands get cold. Stow a backup pair in a pack and swap out soggy mitts for the dry ones at midday.
11. Keep the core warm.
As your body gets cold, the digits are the first to feel the chill as blood moves to the core. Be sure to layer up with high-performance long johns and fleece shirts, a puffy down vest, and an insulated jacket.
For tips on keeping kids' feet warm in when skiing and snowboarding, check out my blog at Epic Moms.