Mud Season: Time to Store Your Gear
Just yesterday the trees were budding and the robins were singing. Today it's dumping. Ridiculous spring weather aside, for most people it's time to store the skis, snowboards, and boots, and put away the parkas and ski pants. When a brand-new gear setup can lay you back a grand, you'd be wise take a few steps to maintain it over the summer.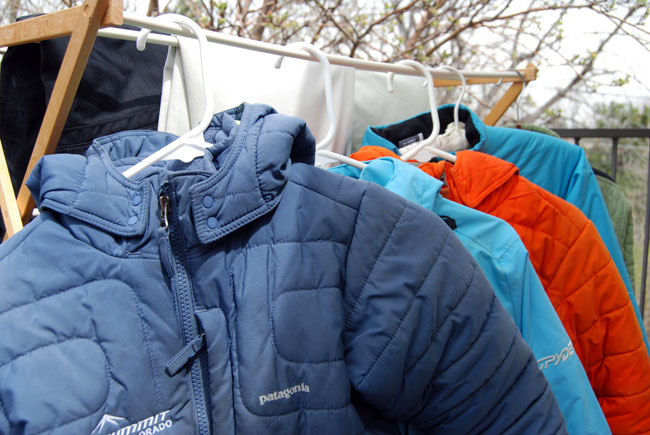 The beauty of the end-of-season regimen outlined below reveals itself in a smooth start to next season. I mean that literally. If you've ever tried unloading a chairlift on a rusty pair of skis, you know it's a good way to do a face plant right out of the gate.
Yesterday I ran the family's ski jackets and pants through the washer. Here's a short list of what I unloaded from the pockets: Two Lifesavers (loose and sticky), one red Kazoo, a rumpled trail map, thirty-six cents in change, one large screw, one washer, dirty tissues, lift ticket stubs, a pocketknife, a rubber ball, sticks of gum (thankfully, not chewed), a half-eaten gluten-free energy bar, spare panty liners, and a hunk of fool's gold from the ski-through mine Beaver Creek. There's little on this list that I would have liked to pull out in the fall.
Read on for tips on summer ski-and-snowboard gear storage as well as dealing with your grubby technical apparel.
Skis, Snowboards, Ski Boots, and Bindings
1. Rust is the edge's enemy: After your last day, thoroughly wipe down your skis and snowboards with a dry cloth. In fact, if you do only one thing to maintain skis and snowboards season long, dry your boards off after every day on the mountain. Leave wet skis in your rocket box for a week and you'll ruin that $60 tune you just paid for.
2. Spring is a great time to bring your skis to the ski shop for a tune, which will clean up the bases, clean up and sharpen edges, and reset your edge bevel. "You're better off doing a tune in the spring," says Geoff Curtis, VP of marketing at Marker-Volkl. "The shops will have more time. Everyone else will do it in the fall." If you're a procrastinator like me and you forgo the professional spring tune-up, don't skip the next step.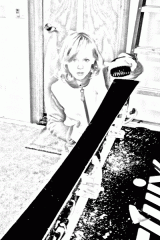 3. Storage wax: Clean off your bases. A hot scrape is the best way to pull dirt and grime out of your bases, says Curtis. "I'm not a big fan of base cleaners," he says. "The solvents tend to dry out your bases unnecessarily." Use a stone to remove any rust from the edges.
Next, apply a nice thick coat of a warm-temperature wax to the bases (the warm wax will be easier to remove in the fall). Don't scrape it. Just leave it on for the summer. The wax will protect the bases and seal in moisture. Curtis recommends scraping just the edges so the wax doesn't seal any moisture onto the metal.
4. Store your boards in a dry place. A moist environment can promote rust. The concrete of your garage can be a moist place. In a perfect world, your snowboard and skis would be propped upright in a nice dry closet indoors. You can keep your suits in the garage. Don't hang your skis from the tips. "Especially in the age of rocker, you could change the camber of your skis by hanging them from the tips all summer," says Curtis.
5. Thoroughly dry out ski and snowboard boots either by pulling out the liners or using a boot dryer. You don't want to start next season with stinky, moldy boots.
6. Buckle or lace up your boots snugly for summer. Not too tight, not too loose. If you leave them hanging open, the boot material may take on a new shape and perhaps the boot won't fit correctly next season. Store boots in a cool dry place.
7. Don't screw with your bindings: Back in the '60s and '70s, many skiers turned down their DIN settings for the summer, theoretically to protect binding tension. Don't do it. For starters, you'll forget you did it and hurt yourself when you double eject out of your bindings on the first steep run of the season. Plus, today's bindings are designed to function properly without periodic adjustment. "Once bindings are adjusted and tested, they're good to go," says Curtis. "There's no reason to turn them down."
Jackets and Pants
1. Empty the pockets: Nobody wants to reach into Junior's pocket in fall and find a baggie of fermented sliced apples.
2. Treat stains: Use a detergent designed specifically for technical outerwear. I use Nikwax Tech Wash, and give a little scrub to the really dirty areas. Next, toss the garments in the washing machine (just a few pieces at a time) and wash with the Tech Wash.
3. Wash water-proof breathable garments in a second cycle with a waterproofing product like Nikwax TX Direct Wash-In to revive the garment's water repellency.
4. Store jackets and pants together in one closet so you can find them in the fall.
5. Long undies: Wash long underwear, neck gaiters, and ski socks then store them together.