Let's Do the Time Warp Again
Under a giant white party tent, revelers buzzed in a convivial frenzy over glasses of chardonnay. A man leaned in, beer in hand, and whispered in my ear, "I'm going to give you a hickey before the weekend's out." Now this would otherwise be an unremarkable declaration if I wasn't 25 years out of college, happily married, and the somewhat wrinkly mother of three. But him being an old pal and clearly well-lubricated, it was somehow an endearing display of affection.
I was spending the weekend at Hamilton College for this milestone reunion. More than 100 of our 500 classmates returned to The Hill for a cold rainy weekend in Upstate, New York.  The bald heads that were sweating at our last reunion were now covered in goosebumps.
The college reunion, which I wrote about in the New York Times after our 20th, is a weird mind-bender of an experience. Here's a surprise: While you were getting old, so were your friends. This time around, I barely recognized some of my classmates. Some because they'd cut their hair short and lost weight; others because they'd gone grey or grown plump. The general consensus was that the women had fared better than the men, whose hairlines were receding and waistlines spreading.
When I first arrived at dinner on Friday night, one of my classmates bee-lined straight for me. I hadn't seen him in 25 years. His first words: "Nobody is going to talk to you!" In my NY Times story, I had referenced a few classmates, not by name, mind you. And it was nothing scandalous. There was a matter of a drink poured down my dress by a soused alumnus.
Well, the fella was wrong about me getting spurned. For the rest of the weekend, my classmates—who did indeed talk to me—would ask expectantly, "Am I going to be in the story? Am I?" I insisted, "There is no story."  (Okay, so I changed my mind.)
This reunion was different from previous ones. For one thing, I did a presentation on my career in publishing and read from my camping with kids book. That day, I also attended two other presentations fellow classmates. Fair to say, that day I spent more time in the classroom than a typical day as undergrad.
The presentations were fascinating. One classmate told of his career in the music video industry. Of having a gun pointed at his head and piles of cocaine on urinals during video shoots in Harlem. The early wild days mellowed as he started working in the country music world. Instead of getting his head blown off in hip-hop videos (as a stuntman), he was schmoozing with Garth Brooks, Taylor Swift, James Taylor, and Willie Nelson.
Another classmate, now a distinguished sleep doctor, gave a talk on the importance of getting your Z's. I learned I can now blame those nagging five pounds on the fact that my kids are depriving me of my sleep. And that those hand-held tablet readers keep you up at night by shooting light right into the suprachiasmatic nuclei in your hypothalamus. Really, who knew?
So much has happened since those formative four years. I was captivated by the story of a classmate who was having frequent dustups with a co-worker. "I just shoved back from my desk and got the hell out of there." She had worked at Cantor Fitzgerald and quit a week before terrorists leveled the Twin Towers on September 11.
"That woman saved my life," she told me. Now she works for a car service in New York, celebrating life with every interesting character that climbs into the back of her car.
I was struck by how some people hadn't changed at all, others had. Or maybe it's just our perception that's been altered by time, distance, and maturity. The football player you thought was a meathead turns out to be thoughtful and decidedly agreeable. The cerebral coed you remembered fondly now strikes you as cynical.
Yet on the whole, our class easily fell into a comfortable camaraderie. As we chatted in the college pub, one of my taller classmates reached down and deftly plucked and restored the drooping wrap dress of an alumna in the midst of a wardrobe malfunction. It was a tender gesture.
Not many of our classmates had brought along spouses or kids. Although I loved talking to the spouses who did come. They turned out to be thoroughly engaging. I love my kids, but I must admit, I'm glad they stayed behind. The young daughter of friend of mine once venomously asked her mom, who was chatting with another adult, "Mom, why'd you even have kids if all you want to do is drink beer and talk to your friends?" Well that, sort of sums up a college reunion, doesn't it?
Before leaving campus, my old roommate and I toured the grounds. Hamilton is a beautiful place that's gotten much slicker since our days. We talked in the raspy voices of geezers who'd been up past our bedtimes. We reminisced about how things had changed. "Remember the beer trucks?" Looking back, we marveled at how we were allowed to light fires in Carnegie's great stone fireplaces, us subsisting in a stew of hormones and Matt's drafts.
At least we had showers in Kirkland dorm (albeit group showers…). When the class of 1889 came back for its reunion, the alums were awed that the dorms had running water and electricity.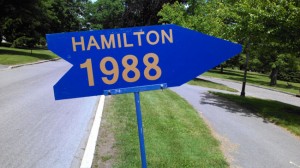 Near the college's historic graveyard, where 1913 Nobel Peace prize winner and Hamilton alumnus Elihu Root is buried, we walked under the weeping branches of a giant black locust, its tiny white petals falling like snow on the grass. The tree seemed to be humming. Were our ears just ringing from the din of two nights under party tents? We realized it was hundreds of bees swarming through the branches collecting pollen.
Back home in Boulder, after feeding the kids sliders and sweet potato tots, I dressed for a dinner out with friends. In the mirror I noticed what looked like—and I am not kidding here—a hickey on my shoulder. Now, I had demonstrated surprising moderation in the boozing department at the reunion, so I'm sure I would have recalled being on the receiving end of a hickey. Admittedly, my mind is starting to slip.
I licked my finger and rubbed the spot. Licked again. It was ketchup.