Copper is offering the deal of the century for new skiers and snowboarders. Tell your non-skiing friends they no longer have an excuse to get up to the mountains.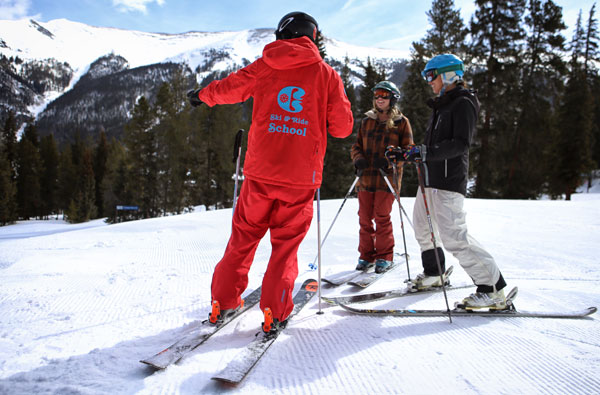 I recently blogged about a free skiing deal in Colorado for elementary aged kids. But Copper Mountain is going one better with its brand-new Ski & Ride University. It's really a too-good-to-be true deal.
So here's the deal—and it's a good one: Any one new to the sport (16 and up) gets three lessons, three lift tickets, and equipment rental; three days of free parking, two days of lunch for $199. And once participants graduate (aka, take their three lessons), they get a free Copper Mountain Season Pass. On top of that, the following year's season pass will be 50% off. Copper is essentially making a two-year investment to encourage people to try out snowsports.
Just to put the deal in perspective, let's run some numbers. If you went to Copper and took three days of adult lessons ($507) with rentals ($126), parking ($60) and lunch ($30+), you'd spend over $700. If you added a season pass ($309-$419), you'd be well over a grand. So the price is about 80% off. You rarely see that advertised.
The deal is so good, you might think upper management at Copper has been taking advantage of Colorado's new pot laws. Let's call this the Cheetoh Deal. ("Yeah, let's throw in parking….ha ha…and a coupla slices of pizza…why not?" Speaking of food, I'm starving. Pass those Cheetos, bro.)
In a nut, the program opens season-long access to the sport to never-ever adults (and big teenagers) for less than half the price of a single round of golf at Pebble Beach. Next time a friend tells you they'd like to try skiing or snowboarding, but it's too darn expensive, tell them about this deal. Then you'll have another friend to ski with.
411
Copper Mountain Ski & Ride University
Copper's Ski & Ride University deal is available for purchase in person at Copper and supplies are limited. One important caveat: The program is designed for folks who are completely new to snowsports. Meaning if you're a lifelong skier and you'd like to try snowboarding, this program isn't meant for you. If you've skied before, but it's been years, you don't qualify either. It's truly a program designed for newbies of the never-ever variety.
© 2014 maddogmom.com All Rights Reserved