Bode Miller crashed horrifically during the Super G race at the 2015 FIS Alpine World Ski Championships in Beaver Creek last week. He was having an sensational Bode-style run that put him 0.56 seconds ahead of the leader at the splits. The run would have landed him on the podium had he pulled it off.
I was at the finish, and I can tell you the crowd was vibrating with excitement. But then, in a section not ironically called "The Abyss," he hooked an arm in a gate panel, which spun him 180 degrees and sent him flying 60 mph backwards over a jump. He imploded on impact and slid some 400 feet downhill, spinning and tumbling head over heels. There was a collective gasp.
Nearly as soon as he stopped, he waved to the crowd to signal he was okay.
But he wasn't, really. During the crash, Bode's razor-sharp ski had sliced through his speed suit and deep into his right calf, leaving a nasty gash. A second cut severed his hamstring tendon, which would require emergency surgery hours later.
The injury would have left a mere mortal screaming in pain and writhing in the snow. Seriously, I've had more drama over a paper cut. Bode just brushed it off.
Amazingly at this point, he stood up and skied down to the finish, where he chatted with his pregnant wife, Morgan Beck-Miller, and his son, Sam, and daughter, Neesyn Dacey (both from previous relationships).
A closeup of the gash on his leg flashed on the 69-foot viewing screen in Red Tail stadium. It was gruesome. As Miller nonchalantly connected with his family, a ski patroller wrapped his leg in gauze.  What does all this have to do with parenthood?
Evidently, after the crash, he refused to be carted down in a sled and instead asked the nearby ski patrol to duct tape his wound, because he didn't want his wife and children, waiting below, to be worried. The man is warrior in a speed suit. But my point here is this: summoning this brand of composure when you darn near sliced your leg off comes from a place of fatherhood.
These are the kinds of things we parents do for our children. We love them so much, we'd take a bullet for them—and we're not kidding.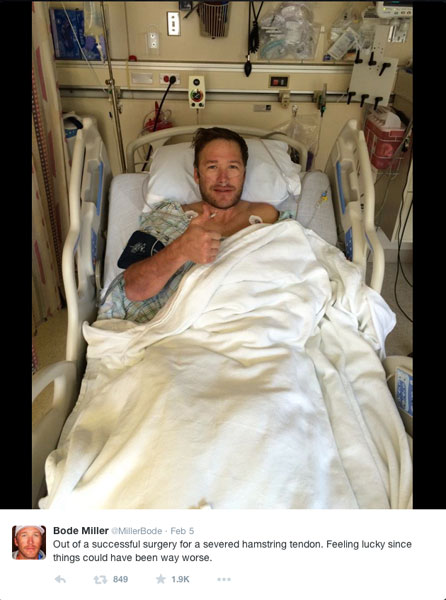 For most of us, the crazy-town things we do for our kids are more like driving five miles back to the park to find a Lego figurine left on the sidewalk. Or making pancakes shaped like trolls and sandwiches cut like puzzle pieces. Or learning to solve quadratic equations so we can help them with their homework. Or scouring a half dozen thrift stores in search of a certain gray cape because our kid must be Gandalf for Halloween…and then, when coming up short, taking a month to sew the damn cape yourself.
Bode's no different; he just took it to another level.
Watch the crash here. 
© 2015 maddogmom.com All Rights Reserved