A weird day makes for high adventure at Loveland Ski Area.
Over the holidays, I had one of my strangest days on snow, including a cosmic run-in with a Buddhist monk from Fort Collins. This day will also remain, I'm convinced, one of my most memorable days on skis with my daughter. We labeled it an adventure and a success, even if we didn't rack up the vertical.
We had decided to ski Loveland, where one of my sons was training with the Eldora Mountain Ski Club and my other son was racing. My daughter, Anya, was determined to ski with a stuffed animal. It was late December, so naturally it was Rudolph dressed in a Santa suit. She asked if she could ski sans poles and with Rudolph.
"Sure," I said. It'll make you hold your hands out in front, where they belong, I thought. And it was a conversation starter with the lifties.
Good Things Come in Small Packages
Loveland's layout makes it a unique place to ski. The bulk of the resort, called Loveland Basin, sits on top of I-70, with a nearly two-mile-long tunnel boring through it, some 1,800 feet beneath the mountain's highest point. Just down the road is Loveland Valley, where beginners learn the ropes while ski racers bash gates. The two areas are connected by an idiosyncratic connector lift that runs near horizontally over Route 6, but it hasn't operated since 2002.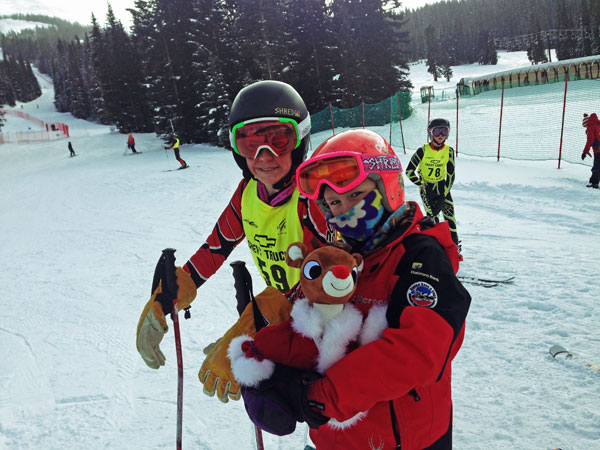 We stopped by the race, but decided what we really wanted to do was ski.
Instead, after parking at the Basin to drop my younger son off for training, we rode one of the blue shuttle buses that Loveland uses to ferry guests from one area to the other to catch my older son's GS race.
My daughter, at 10, is still young enough to think bus rides are part of the adventure. We took a lap, skiing through fresh powder, and watched four and a half seconds of my son's ski race.
"What are you guys doing here?" he asked at the bottom, with little enthusiasm. Seriously, no appreciation for the effort.
Time to Ski
That was the moment we decided spectating was for the birds. We needed to ski. We took the blue bus back to the Basin and took the resort's new #2 Lift to the Ptarmigan Lift (Anya called it "Parmesan").
Laid out in front of us was a horseshoe of  high alpine terrain stretching to the Continental Divide. Under bluebird skies, we skied Bennett's Bowl, Rudolph leading the way and fresh snow burying us to our boot tops.
From there, we made our way over to Chair 4 and gawked at the rocky chutes that spill off the top of the ridge. We planned to come back another day (maybe with ski poles) and ride the snowcat that now accesses that badass terrain.
We skied another steep run, finding pockets of untracked, continuing to migrate northeast to Chair 8. We were sitting on the lift discussing how comfy the seat pads were and how unusual it is that there are no safety bars on the lifts at Loveland, when the chair creaked to a stop. The sun was out, but it was chilly and the wind was nipping at our cheeks.
Frozen in Time
We waited. And waited. The lift started. Then it stopped again. For the next half an hour, we sat swinging in the breeze, playing Name that Tune (mostly Christmas tunes), I Spy with My Little Eye, and 20 Questions. We shifted from one cold butt cheek to the next. I explained how ski patrol rescues skiers stuck on chairlifts, all the while hoping that would not be part of our adventure.
When the lift finally limped to the top, we'd been on that cushy chair for 40 minutes. Our toes were frozen and brittle. We made our way (through powder, mind you) to a new slopeside cabin called the Ginny Lee Cabin.
Things Get Weird
Inside the cabin, it was quiet and empty, save for a bald skier stripped mostly down to his red one-piece Doctor Denton's.
He was perched next to a potbelly stove mumbling to himself. We sidled up to the fire, peeled off our ski boots, and put our stocking feet as close to the blaze as we dared.
At the man's feet was a large Tuppeware filled with what looked like the dry ingredients for pancakes laced with colored strips of cotton. I noticed he was holding prayer beads and had a stack of prayer cards on his lap. He was chanting and intermittently chucking handfuls of the powder into the fire.
My daughter sensed a reverence in the air and kept uncharacteristically silent. The man opened his eyes and asked if we had gotten stuck on the lift, too. He explained he was a Buddhist monk from Fort Collins (and a 3rd generation Loveland skier). Because the hut was new, he was blessing the structure with a Tibetan smoke-offering ceremony.
It would appease the spirits that had been on the site long before skiers started clomping around in ski boots. He was envisioning rainbows furling through the smoke and good intentions to make things go right in the world.
I asked him if he was praying while we were all stuck on the lift.
"No, I was just thinking about how cold I was," he said with a beatific smile.
He started chanting again and chucking more dust into the flames. My daughter was entranced, and we sat silently as our toes thawed. Next he took a bunch of juniper wrapped in twine and tossed it into the stove, giving off an aromatic earthy scent. It was about as spiritual a moment as you can get high in the mountains. We booted back up and skied down a steep, mogul-filled ribbon through the trees to the bottom.
The Final Adventure: Going Underground
To get back to the base area, we clicked out of our skis and walked through the dark pedestrian tunnel that goes under I-70. My daughter loved the idea that we were burrowing under a major interstate in our ski boots. It was all part of the adventure.
At the base, we stopped into the business offices. Ski patrol had suggested we go in and let them know we'd gotten stuck on the lift, and we might just get a complimentary hot cocoa. To my surprise, we were given vouchers for hot chocolate, a Loveland neckie, and day passes for another day.
Loveland, I realized, is the sort of small, authentic place that would make such a concession. Or maybe the Rudolph stuffie just put them in a generous mood. It's certainly the kind of place you can walk right to your car at the end of the day in a parking lot that's close-in and free. It's the kind of place you can get two eggs cooked to order, breakfast potatoes, bacon and toast for $7.50 in the morning and still have enough money for a draft beer at the lodge's cozy Rathskeller bar for apres-ski.
And it's the kind of place you might have a spiritual high-altitude run-in with a buddhist monk from Fort Collins.
© 2016 maddogmom.com All Rights Reserved