When life gives you lemons, sometimes the best course of action is to pack up the car and head for Crested Butte.
On Christmas night of this year, my 83-year-old dad had a seizure. It had been—unbeknownst to anyone, least of all him—precipitated by a raging gall bladder infection. His only complaint was he didn't feel like eating, he couldn't rally to make his trademarked Irish coffees, and he barfed a little bit.
Recovering at the hospital, dad was totally out of it. The docs said he was in an altered state of consciousness called postictal. When seizure patients come out of the state, they often have memory issues. At varying times, dad thought he was rounding on patients in Buffalo in the year 1972, that he was in his own own home watching TV, and that he was on a cruise ship.
He invented scores of ailments for himself, from fistulas in the back of his neck to bowel obstructions and skin cancer. Dad is a retired surgeon, and I suspect he was running through old cases and applying them to himself.
As if he didn't have enough problems of his own. When they removed the gall bladder, it was the size of a foot-long salami. It was the biggest the surgeon had ever seen in his long career.
To give you the very abridged version of the rest of the saga, dad spent two weeks in the hospital and a month at home in home rehab. He and my mom have since moved to an assisted living facility. It's been a rough winter all around.
But life goes on, and the kids still needed to get to ski races during all this drama. My husband and I missed many of the races this year—we'd send the kids on the van with the team—but I did get to break away in February to take my son Aidan to Crested Butte for his first Prater Cup.
When life is giving you a shitstorm, a brief respite in the mountains is just what you need. What follows is a quick photo album of those few heavenly days.
Ripping The Headwall
The Prater Cup comprises four days of ski racing, with Super G, GS, and slalom. Race organizers encourage kids to explore the mountain during the event. They give each kid a passport that includes a scavenger hunt. You get points for your country if you can tick off the check points. The High Lift T-bar is one checkpoint. I snapped this picture after my son and his buddy ripped The Headwall, which is conveniently located off the High Lift. One of the best things about ski racing is that it gives kids the skills to rip big steep lines with their moms.
Captain Luxembourg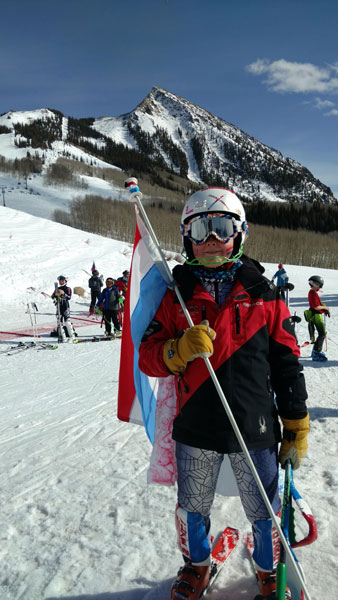 At the Prater Cup, once kids are assigned their country, they can earn points by showing patriotism. Flair, if you will. My son wore a Luxembourg flag fashioned from an old pillowcase colored with Sharpies. He used sparkly rhinestones to put "LUX" on his helmet. And he blew through a ton of duct tape.
Duct Tape Spirit
Rolls of red, white, and blue duct tape are essential gear for Prater Cup. I'm hoping he's Luxembourg again, because I don't think all that tape is coming off the shin guards and pole guards.
Team Spirit
The Prater Cup is one of the first Super G races for many of these U14 (12 and 13 year olds) racers. It's a little scary how fast these little human beings can fly.
Top of the World
In between races, I hightailed it for the peak. I've been to Crested Butte many times, and I never knew you could ski right off the peak. I thought it was all for show. The hike took about 20 minutes and it truly felt like being at the top of the world. Breathing the thin air up there was just what I needed after sucking up so much hospital air.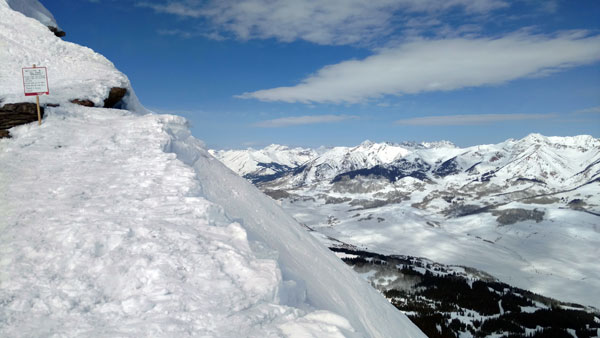 The vertiginous view from (nearly) the very top of Crested Butte is spectacular. Acrophobes need not apply. From the summit, you can see all the way to the valley floor. It's good for the soul to be at 12,162 feet, with 3,000 feet of terrain at your ski tips. Of course, I had a moment of panic that I'd miss the second run of the ski races, so I made the descent in record time.
Mother Son Dance
After the slalom event was over, Aidan and I skied the Funnel, one of the steep narrow routes that thread down from the peak.  There are no gates here, but those rock walls ratchet up the adrenaline factor plenty.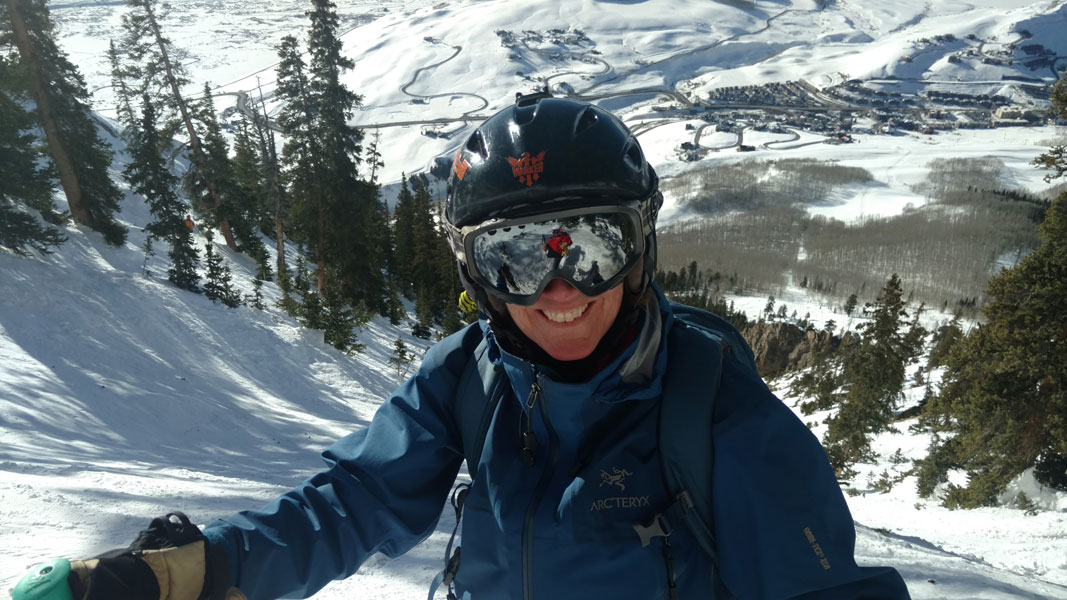 I'm still in the throes of dealing with my beloved but aging and ailing and sometimes ornery parents. It's not easy.  When I need a lift, I try to tap into those euphoric moments high on the mountain. Like this one, at the top of the Funnel with my son.