The Down and Dirty Guide to Camping with Kids:
How to Plan Memorable Family Adventures and Connect Kids to Nature
By Helen Olsson
April 2012
Use coupon code DOWN30 for 30% off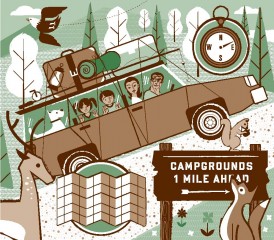 For parents of young children looking for a supremely economical family vacation, camping is the way to go: no matter where you live, you can pack up the car and drive to a nearby campground–with a week's worth of campsite fees totaling less than one night in a nice hotel. But while today's generation of parents may have backpacked through India and shot class IV rapids in Idaho (or seldom strayed from their office cubicle), when it comes to the thought of changing a diaper in a tent at midnight—much less amassing, organizing, and packing the requisite kid gear—anxiety and trepidation can easily set in.
This book, by a seasoned camper and a mother of three, is a humorous and often irreverent introductory guide to camping with kids, from babies to pre-teens. Eschewing the encyclopedic, author Helen Olsson writes from a parent's point of view, giving readers a clear plan—and plenty of encouragement—for an enjoyable family camping experience.
The book covers basics like choosing a destination, packing gear and food, setting up the campsite, planning menus. Each chapter features checklists, tip boxes, and sidebars on topics like renting gear, duct tape, "Top 5 Ways to Curb Whining," and the ever-important etiquette for pottying in the woods. A section on camping activities includes detailed nature-based arts and craft projects to do while camping. The book focuses on car camping but also touches on the art of backpacking with kids.
Like a trusted friend (albeit one who can haul a 30-pound toddler in a sled on a winter hut-camping trip while pregnant), Olsson shares first-person anecdotes and lessons learned over years of camping with her family. With its authentic, can-do voice and contemporary design, The Down and Dirty Guide to Camping with Kids will appeal not only to first-time campers but to veteran campers befuddled by the challenges of carting their brood into the woods.
Check out illustrator Scotty Reifsnyder's site.