Ski-Racing Moms: Support Crew with Benefits.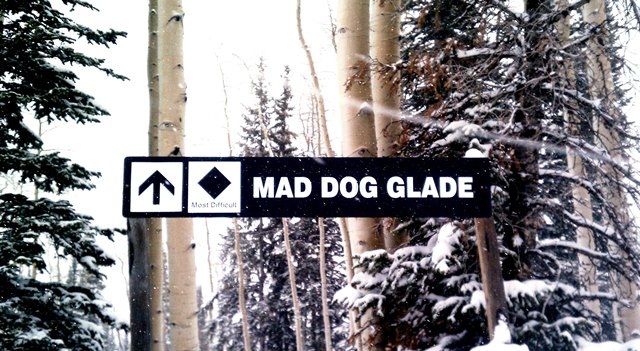 Horse moms, swim moms, and soccer moms have nothing on ski racing moms. The proof is in the powder.
A friend was recently telling me about the perils of being a horse mom. A corporate executive by weekday, she mucks out horse poop from stalls and carries heavy buckets of sloshing water around the barn on weekends. "One day last summer," she said, "I was crossing a fence and I grabbed hold of the wire and got an electric shock." Zzzt. Aaaaaagh!!
Imagine the shock. The literal shock. She practically gave herself a perm.
Her story made me realize just how good I've got it as a ski-racing mom.  Now that the ski season is coming to a close and Mother's Day is at hand, I have time to reflect on my good fortune. In March I took my son Aidan to the state championships in Powderhorn, near Grand Junction Colorado. Now, if you often frequent I-70 behemoths like Vail and Copper you might think Powderhorn is a rinky-dink ski area not worth your time.
Admittedly, I was in that camp. It's relatively small–1,600 acres–it has only two chairlifts, and it's a 4.5-hour drive from Boulder. As it turns out, the modest acreage is packed with serious terrain: steeps, glades, giant boulderfields.  Only a slice of it is groomed.
While our boys were inspecting the racecourse, Amy, co-conspirator and ski-racing mom, and I snuck away to find some fresh snow. I'd gotten the skinny on a route through the woods, which led to an undulating trail peppered with powder-covered boulders.
The runs at Powderhorn spill off a mesa and from the top of the run, we could see across a broad valley to a spectacular crush of mountains on the horizon. We porpoised through untracked powder under a crisp blue sky. We were downright giddy. Amy got a text from the coach about getting the boys to the start. She ignored it. Ski race? What ski race?
Another cat track into the woods deposited us onto a glade of perfectly spaced aspens. We threaded the trees with fresh tracks. On the next lap, we found a run called–are you ready for this?– "Mad Dog Glade." It had my name on it! It was another broad hillside filled with towering aspens all blanketed in fresh powder. Lower down, we bunny hopped over boulders covered in snow pillows and caught air (unintentional) off a giant log.
We came to Powderhorn thinking we'd be tortured all weekend by standing on the edge of the course and maybe sneaking away for a lap on an intermediate groomer (probably while carrying a bag of coats). Instead, we'd found the keys to the candy store.
For the record, lest you question our commitment to our pint-sized ski racers, we did make it back to the racecourse in time to watch our boys race. We have several minutes of horrendous video to prove it (sky…snow…trees…millisecond of racer in a speed suit…sky…trees…).  And we both did lug big bags of coats from the start to the lodge.
Last year I wrote a blog post called "A Day in the Life of a Ski Racing Mom," in which I kvetched mightily about the travails of ski-racing parents. The laundry, the miles on the car, the tuning of skis, the gatekeeping on subzero days. My friend Buzzie responded to my grumblings:
"Ice hockey moms have it worse," she wrote. "We had six games one weekend in Buffalo, which was a six-hour drive through a nasty storm. There are games every weekend and the season lasts six months. Our vitamin D levels are depleted since we stand in a rink and breath in noxious Zamboni fumes all weekend." I have also heard that hockey parents are known to get into fist fights in the stands.
I know firsthand being a swim mom is tough duty. I've spent many a weekend inhaling chlorine in an indoor pool standing at the end of a lane hand-timing races while some overzealous swim dad is screaming, "Pull!!!! Pull!!!" right in my ear.
Ski races this season also took us to Crested Butte, Loveland, Ski Cooper, and Telluride. We were pretty quick to sign up for the Telluride race. Aside from seven-hour drive and the fact that our littlest started tossing her cookies at 6 a.m. in the hotel and that my 12 year old crashed getting enormous air in the terrain park on the first run and slammed his knee into his eye, giving himself a mighty shiner, it was awesome.
We were in Telluride, Shangri-la for skiers and snowboarders, and it had just dumped a foot of snow. We came a day early and free-skied with the kids, doing laps on Spiral Stairs and Kant-Mak-M. The next day, between races, my husband and I took turns sneaking away to the Gold Hill lift and getting face shots on heart-in-your-throat steeps.
After the race was over, we capped the day by skiing with the kids down Telluride's Milk Run. Those post-race runs are really the best thing about being a ski-racing mom. We are more than spectators and support crew. The experience is shared.
My hockey mom friends certainly aren't lacing up their skates for a little pickup after the kids' game. And my horse mom friend, well, I don't think she even rides.