One fall years ago, in the middle of a screening of a new ski movie from Warren Miller, my 4-year-old daughter fell asleep on my lap. It sure was an expensive nap.  (PS: Yes, she was wearing earplugs to mitigate the thundering soundtrack.)
As our kids have grown older—they are now 11, 13, and 16—they not only stay awake for the whole show, they love the fanfare—they run around the theater before the lights dim, collecting stickers, lip balm, drink coozies, and other swag. They raise their hands high to catch flying t-shirts and socks hurled by an on-stage emcee.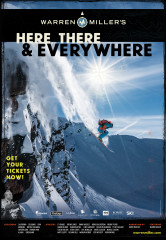 When the movie starts, they sit wide-eyed, mouth slightly agape, completely spellbound. My husband and I sit back with a microbrew in hand to watch the show and lust for days of deep powder. We all leave the theater itching to put steel edges to snow.
Ski movies signal the start of ski season as much as falling leaves and frost on the lawn (I'm still waiting on the latter). For our family, going to a ski flick is a tradition that's the perfect psych-up to ski season. There is nothing quite like seeing a ski movie on the big screen in a theater full of rabid snow-sliding enthusiasts who hoot and holler at every cliff drop.
Warren Miller Entertainment 2016: Here, There & Everywhere
If you were ever going to see a Warren Miller flick, this is the year to do it. Warren Miller himself—the man who pioneered the genre 67 years ago—will make an appearance in the movie for the first time since 2004. He is 92.
Here, There & Everywhere is set on location around the globe, with locations from Greenland and Switzerland to Kicking Horse, BC and Cordova, AK. Colorado skiers and riders will especially love the segments set in Crested Butte (with the incomparable Wendy Fisher, a 7-month-pregnant Ingrid Backstrom, and halfpipe Olympian Aaron Blunck).
For more details on Colorado coverage in this year's Warren Miller movie and clips of Colorado segments from year's past, click here.
The glue holding the different segments together in this year's movie is a nostalgic blend of black and white footage from past movies and current interviews with Miller.
Click here for a schedule of screenings.
 Red Bull Media House 2016: Between
Next week, I'm heading out with my lady friends to see Between, the third in the Shades of Winter series of documentary style action sports films by Austrian producer and pro skier Sandra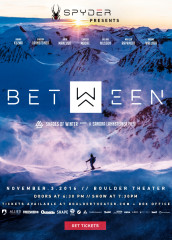 Lahnsteiner. Spyder and Allied Feather & Down are presenting the movie's Colorado premiere at the Boulder Theater on November 3 (next week!). The movie will also be shown in Vail on Dec 14-16.
Bringing World Cup celebrity to the movie will be Julia Mancuso, Spyder athlete and Olympic gold medalist. The World Cup racer plans to sign posters at the premiere and I'm planning to rub elbows.
Joining Mancuso and Lahnsteiner on screen is an all-star, all-female cast: Janina Kuzma (World Cup Winner and 2014 Olympian), Matilda Rapaport (2013 Verbier Extreme winner), Carissa Moore (Three-time World Surf Champion), and Nadine Wallner (Two-time Freeride World Tour Champion).
The ski and surf action promises to be heart-stopping with destinations from a volcano in Hawaii to big lines in Alaska, all intertwined with behind-the-scenes storytelling. "The film showcases the moments between the big action, including the beautiful, the ordinary, and the low moments of life," says Lahnsteiner.
Matchstick Productions 2016: Ruin & Rose
While ski movies are known for their globe-trotting, no movie went quite as far as this year's Matchstick Productions movie, Ruin & Rose. I took the kids to see it this fall, and they gave it a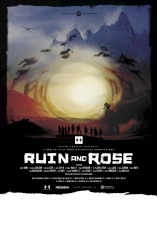 thumbs up. It's a groundbreaking movie that used a post-apocalyptic storyline to put a spotlight on global warming, with many of the scenes filmed in the deserts of Namibia.
The cinematography was stunning and offered a quiet juxtaposition to the exhilaration of the snow-filled, action-packed ski segments, filmed in snow-covered locales around the world from Alaska to Bulgaria.
Some moviegoers thought the storyline pivoted too far from the traditional ski movie formula (big tricks, big air, big powder, big crashes, etc.), but my kids were transfixed. In fact, maybe because I've seen so much ski-action footage, I thought some of the cinematography in the dessert was even more striking.
Whether it's Warren Miller, MSP or Lahnsteiner and Red Bull, ski movies are the perfect way to get psyched for a winter of ski and snowboard adventures of our own. And when the temperature refuses to dip below 70, this is the way to get your chill on.
Get tickets for a ski movie this fall because, in the immortal words of Warren Miller, "If you don't do it this year, you'll be one year older when do."
Click here for a schedule of screenings.
Image featured on home page: Julia Mancuso in "Between," the third film in the all-girl series of ski movies called "Shades of Winter." Photo by Klaus Polzer, courtesy of Sandra Lahnsteiner.